Actualités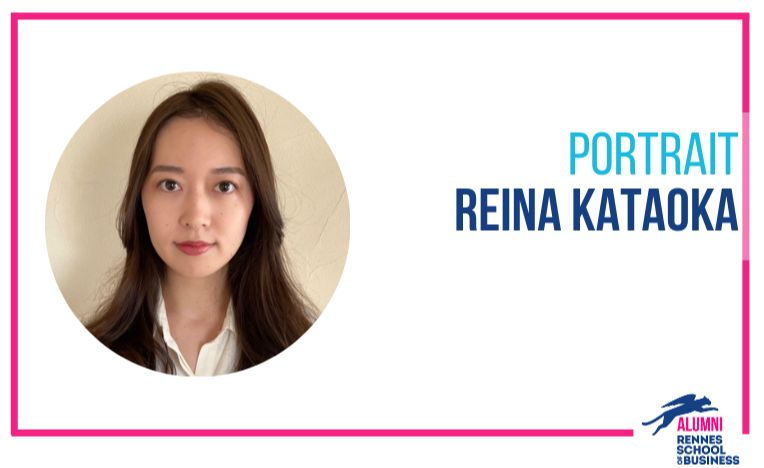 [Internship Story] - Reina Kataoka

Vue 401 fois
Hello! My name is Reina Kataoka. I was born and raised in Japan. After graduating from a high school in my city, I decided to go to the U.S. to study English. I enrolled in Lane Community College (LCC) in Oregon and study English and basics of Business. Thanks to the partnership between LCC and Rennes SB, I had an opportunity to transfer to Rennes SB (Rennes campus). I joined the International Bachelor Program in Management of Rennes SB and majored in Marketing. After finishing my bachelor's degree and spending a gap year, I joined MSc in International and Luxury Brand Management. I studied Luxury Marketing in Paris and I am now working at Parfums Christian Dior in Japan as a Product Management Intern in the make-up team.
Can you tell us how did you find your internship in Dior in Tokyo?
After searching for internships on several platforms, I found an internship offer by Parfums Christian Dior on LinkedIn. Creating a LinkedIn account was recommended by a career coach at Rennes SB. (In Japan, LinkedIn is not well recognized as a tool for students to apply for jobs or internships, and I didn't realize the importance of LinkedIn at the time. Career coaches taught me how to find an internship in France, so I learned the differences between job hunting methods in Japan and France). After I installed LinkedIn on my smartphone, I started checking it everyday and it became my routine. In order to avoid missing any job offer that I'm interested in and apply while companies are actively hiring, I set job alerts as well. One day, the job alert told me that Dior was actively hiring a Product Management Intern, so I applied for the job offer as soon as I saw it. The first part of the recruitment process took place on LinkedIn. After I had several interviews online and in person, I was hired by Parfums Christian Dior in Japan.
What do you learn about this professional experience?
I acquired my professional knowledge in our school, but during my internship I learn how this knowledge can be applied in a real business environment. I can learn how international luxury beauty brands do business as well, for example, how they are committed to sustainable practices, how they tailor their French beauty products to Japanese tastes and styles, and how they plan and run a pop-up event. It has been only 2 months since I have started working for Dior, but I have much to learn from this internship.
What is your greatest achievement for now?
My greatest achievement or pride so far is working as part of Parfums Christian Dior. After studying abroad in France and having more opportunities to experience the luxury world (especially in Paris, where there are many well-known luxury brands), I became interested in Luxury Marketing and dreamed of being involved in marketing at a luxury maison. The luxury industry is very popular and competitive, and I knew that working for leading luxury brands would not be easy, but I did not give up on applying for a marketing internship at luxury brands. Successfully, I got an internship at Parfums Christian Dior. I am proud to be part of such a wonderful maison and at the same time I really enjoy my work.
What would you like the Alumni network to do for you in the future?
The RSB Alumni network is very active and I am already satisfied with the Alumni network's performance in terms of building business connections. But I think that it would be great if you could offer more opportunity for alumni to reunite (e.g. online reunion party) since it is relatively difficult for us, international students, to participate in our school's graduation ceremony or meet again after graduating from our school and going back to our home countries.
Do you have a hidden talent?
I don't know if I can call it a talent, but I'm good at taking pictures. That doesn't mean I have a good camera or professional photography skills, but I tend to be detail oriented. I retake photos until I am satisfied with the angle of view, color, lighting, contrast, etc. So, people around me often praise the photos I take ? Coincidentally, this hidden talent is also utilized in the internship. I went to a competitor's pop-up event, took lots of photos and created a report, and received a compliment from my manager about the photos in the report. I am happy that I can make use of my little hidden talent for the internship.
I had an amazing experience and memories at Rennes SB. The time spent with the friends I met in Rennes SB (both IBPM and MSc) is the best part of my school life. Of course, the expertise and degrees I gained at Rennes SB are so important, but above all, the friends and memories I made at Rennes SB are the most important and precious to me. I would like to thank RSB for giving me the opportunity to meet amazing friends and have great experiences!
---
6
J'aime