News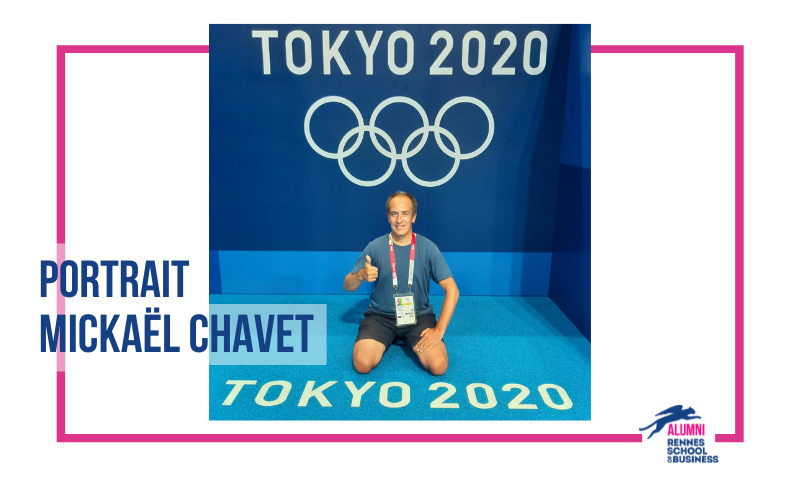 [An artist's story] - Mickaël CHAVET

View 648 once
Can you briefly introduce yourself & your academic and professional background?
Hello! My name is Mickael Chavet. I was born in Rennes in 1982 and I'm passionate about sports, cinema and photography. After completing my Magistère in Sports Science at ENS Cachan, I decided to join the very first cohort of the MSc in Sports & Tourism Management at Rennes SB in 2005, in order to acquire managerial and business skills in English. After this course I moved to Liverpool in England, where I worked as a Staffing Manager for American Airlines. When my friends and colleagues saw the photos I posted on social media, more and more of them kept telling me that I should become a full-time professional photographer. Little by little, the idea started to grow. Combining managerial principles with my more artistic side, I jumped in and now I am a full-time photographer.
Can you tell us a bit about your job and your projects? What is your work like day-to-day?
I am now a full-time photographer. My aim from the start was to work at some of the most prestigious events in the world. We're often told that photographic quality is a matter of equipment; whilst I agree that this aspect is important, in my opinion, the subject being photographed is of far greater importance than the technology used by the photographer.
I always dreamed of becoming an official photographer for events such as the Cannes Film Festival, the Venice Film Festival and more recently the Olympic Games. These events are prestigious and among the best in the world, moments which bring together some of the most talented individuals of their domains.
When I'm not participating in these one-off events, I work closely with the corporate world to create images that reflect the values of my clients, whether it be product photography, corporate portraits, or corporate events.
In addition to the pure production aspect (photo shoots), I have a pre and post shoot preparation process. The pre-shoot includes selecting events, managing accreditation requests, keeping up to date with the different sectors I cover (fashion, sport, film), ongoing training on photographic and post-production techniques, marketing communication (website, lead generation, press releases) and prospecting. Once the shoot is done, post-production processes for events photography include selecting the best shots, IPTC captioning and sending the photos as quickly as possible to the agencies with which I collaborate via FTP, so that the photos are immediately available for purchase and thus for publication on the various interested media. The competition is tough, for example, for the Getty Images photographers at the Olympic Games, the lapse of time between the moment a photo is captured and the publication of a photo online is just 90 seconds. Knowing that it is not uncommon to snap 2,000 photos per event, mastering the workflow is essential to getting work published.
What is your greatest achievement? The shot you are most proud of?
Without wanting to paraphrase Richard Branson, the CEO of Virgin, when answering the question about the best day of his life, I'd say "Tomorrow." I admit that I don't tend to think in terms of which shot I'm proudest, as I believe that I will keep taking even better photos in the future. Having said that, I also try to think in terms of recognition, and as such, I am really proud of having had the honour and privilege of photographing the Olympic Games, a real dream since my childhood. If I had to pick one photo to answer your question, it would be one I took of our Olympic Judoka champion, (who comes from Rennes!), Clarisse Agbegnenou, during her victory in the final of the Tokyo 2020 Olympic Games. My photo was used for the cover of Libération newspaper on July 27, 2021!
Can you tell us about a meeting that changed your life?
Again, it would be difficult for me to single out just one.
On an academic level, I am extremely grateful to Jens Blumrodt, the programme director of the MSc in Sports & Tourism Management, for believing in me and putting his trust in me. I remember our very first conversation like it was yesterday, the moment I came to Rennes SB to discover the programme and understand if it was adapted to my professional project, and vice versa, in order to gauge if I was a good candidate for the programme.
Then, on a personal level, meeting my fiancée Annalisa in Liverpool in 2007 at American Airlines changed my life profoundly.
What values do you try to reflect in your work?
Whether it is the values passed on by my family, the ones I learned practicing martial arts from a young age or those I picked up from my academic background, I am a firm believer in respect for others and for oneself, humility, sincerity, courage and boldness to set ambitious goals and do everything to achieve them, as well as mental openness in the sense of a belief that it is always possible to do better and to constantly renew your goals. Creativity is another of the most important values for my job.
What advice would you give to a young graduate who would like to follow your career path?
I would definitely encourage them. Going through business school to pursue an artistic career might seem a bit strange. However, if I had to do it all over again, I wouldn't change a thing. On a daily basis, I see that the things I learned at Rennes SB are not only useful but indispensable. Just thinking about the artistic side of things can be an obstacle to success in this field, for which, like any other professional sector, having solid knowledge and managerial skills is a serious asset.
Photography is your passion, but do you have any other hidden talents?
I don't know if you can call it a talent, but I am a really hard worker. From the moment I set myself a goal, I put everything in place to achieve it, without counting the hours I spend doing it. I also think I have a good eye for photography, I can visualise what will make a good picture from observing what's around me.
Do you have anything else to add?
If all goes well from a health point of view and regarding the conditions of access to China, I should be able to bring back some good pictures from the Beijing Olympics which start on February 4th. My fingers are crossed!
Find Mickaël on LinkedIn : Mickael Chavet | LinkedIn
---
10
I like