News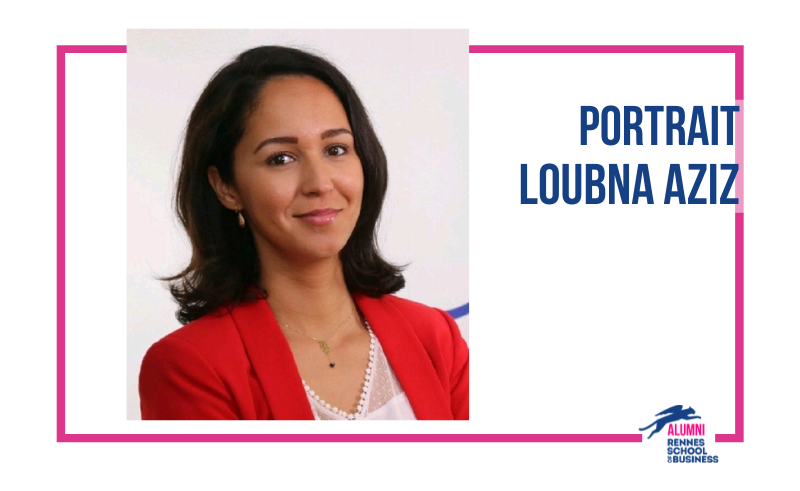 Loubna Aziz
[Alumni story] - Loubna Aziz

Viewed 1230 times
Hello, I'm Loubna. After completing my preparatory classes in Angers, I started my studies at Rennes School of Business in 2001. At the time it was still called Sup de Co Rennes! I joined the 4L Trophy association.
In my second year, I went on an exchange to Canada (Carleton University, Ottawa) for one semester. When I got back, I did a year of internships with Groupe Rocher, in Rennes. Working in the world of cosmetics was my dream!
When I returned to the School after my internships, in 2004, I finished the Programme Grande École (PGE) and completed a Master of Arts in International Business (MAIB). I conducted a fascinating study on how different smells can have an impact on consumer behaviour.
Finally, before the end of my studies, Groupe Rocher offered me a fixed-term contract as an animation manager. I then joined L'Oréal in 2006. I spent 10 great years at L'Oréal Morocco in operational marketing, trade marketing, communication and HR. Back in France in 2016, I joined Rennes SB as sales manager for the MENA zone. I then moved within the school and today, I am the Director of the Career Centre & Well-Being department.
Can you tell us a bit about your department at the School, your job and your projects?
The Career Centre & Well-Being department's mission is to support students as they develop their career plans. This ranges from encouraging them to reflect on themselves and their projects to helping them find and carry out internships or work experience. Students complete a specialised career module with compulsory workshops and meetings with companies and professionals to build their plan step by step, grow their network and develop their professional skills.
We also offer a well-being programme (Feel Good) so that students can complete their studies with peace of mind and understand the importance of well-being. We also work on sensitive issues such as harassment, hazing and discrimination through raising awareness and ensuring support for victims.
Why did you choose to work for Rennes SB?
After 10 years in Morocco, I wanted to come back to Rennes to work in a company with a strong international and multicultural dimension. Rennes SB was an obvious choice!
As a student, I remember walking past the offices on the 3rd floor several times and seeing the signs on the office doors with people's names and jobs. I remember thinking that I would like to work for the school. I didn't think it would happen... 15 years later!
What is your greatest achievement?
My greatest achievement, or rather the thing I am proudest of, is to have succeeded in deploying the Beauté du Coeur (Beauty of the Heart) programme at L'Oréal Morocco in partnership with the Lalla Salma Foundation against cancer. This programme aims to offer socio-aesthetic sessions to women with cancer. It's true that this doesn't cure them, but it has been proven that the treatments allow them to regain their self-confidence and feel better psychologically when faced with the disease and the difficult effects of chemotherapy.
On a purely professional level, I would say that it was to have succeeded in building and setting up a human resources department at L'Oréal Morocco.
What was the meeting that changed your life?
The marketing teacher in my final year of secondary school, Mrs Salomon, strongly encouraged me to take preparatory classes to join a French Grande École… even though I didn't know what a business school or a preparatory class was at the time. Without her, I would never have taken this path.
What values do you try to reflect in your work?
Honesty, solidarity, team spirit, benevolence, empathy and high standards.
What advice would you give to a young graduate who would like to follow your career path?
I would advise them to dare to contact companies with confidence and simplicity! In my case, I didn't manage to get a direct contact at L'Oréal, so I sent my application by fax (in 2006). The text wasn't very clear, but fortunately my email address and part of my message were legible, and I was contacted for an interview.
I would also advise people to ask a lot of themselves, to always give their best and to set ambitious goals.
Finally, stay true to your values and make sure you contribute to a good atmosphere in the company, respect others whatever their position.
Do you have a hidden talent?
Pastry, especially cheesecake!
Do you have anything else to add?
Diversity! Throughout my career, I have observed how diversity is an asset for companies and their employees. Each and every one of us, by remaining open-minded, must encourage diversity in companies and in our day-to-day lives.
Find Loubna on LinkedIn : Loubna AZIZ | LinkedIn
---
13
I like